Welcome! We are local headquarters of the Rosary Confraternity of the Catholic Church for the Western Dominican Province, a world-wide movement of prayer for peace. We are administered by the Dominican Fathers, Fr. Joseph Sergott, O.P., Director. We are located next to the Holy Rosary Church in Portland, Oregon, USA, the city of roses. Included is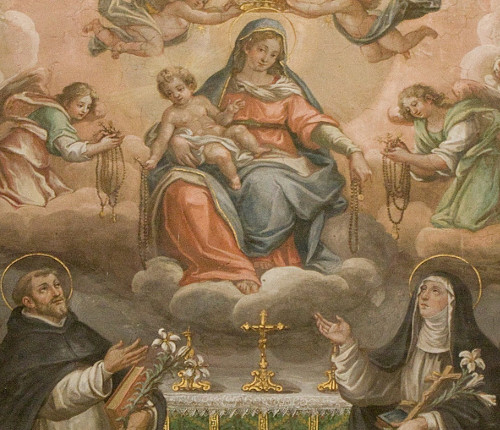 Those who pray the Rosary regularly would do well to be enrolled in the Confraternity to gain extra spiritual benefits for each Rosary they pray.

Also, see our latest newsletter in our new format Vol71n2:Mar-Apr '18, The Sadness of Lust & Christ's Call, or our current announcements and Novena Prayer.
Pope Saint John Paul the Great declared the Rosary as his favorite prayer, a "prayer for peace and for the family". Read his Apostolic Letter "Rosarium Virginis Mariae" (Rosary of the Virgin Mary).
Pope Benedict XVI in 2008 stated "... the Rosary is experiencing a new Springtime. Without a doubt, this is one of the most eloquent signs of love that the young generation nourish for Jesus and his Mother, Mary. In the current world, so dispersive, this prayer helps to put Christ at the center...." And in 2011, a "contemplative and Christocentric prayer, inseparable from the meditation of Sacred Scripture," is "the prayer of the Christian who advances in the pilgrimage of faith, in the following of Jesus, preceded by Mary."
"The Rosary is a prayer that always accompanies me; it is also the prayer of the ordinary people and the saints … it is a prayer from my heart," says Pope Francis in the preface to The Rosary, A prayer from the heart by Coptic Catholic priest Yoannis Lahzi Gaid.
---
ROSARY CENTER
Home of the Rosary Confraternity

Promoting the Rosary for over 500 years!
Mailing Address: PO Box 3617, Portland, OR 97208 USA
Physical Address: 1331 NE 3rd Ave, Portland, OR 97232 USA
Email: rosary@rosary-center.org
Web Site: http://www.rosary-center.org
Phone: +1 (503) 236-8393
Fax: +1 (503) 922-3550
---
All original material Copyright © 2018, Dominican Fathers / The Rosary Center, Portland, Oregon.