The Rosary Light and Life - Current Announcements - March-April 2015
---
A CENTURY WELL SPENT
Reflections from Fr. Reginald Martin, O.P.
On December 12, 1966, the superior of the Western Dominicans sent a letter to Paul Duffner.
Dear Father Duffner:
I hereby appoint you to the following offices in the Province:
Treasurer of the Province
Provincial Promoter of the Rosary Confraternity
Director of the Rosary Center and Shrine of St. Jude
Manager of the Dominican Confraternity Building
Member of the Province Planning Commission
With the assurance of my best wishes, I remain....
One may wonder what was left for the other members of the Western Province to do! Our brother was born on April 14, 1915, exactly three years after the sinking of the RMS Titanic. By 1966, Fr. Duffner was preparing to celebrate the twenty-sixth anniversary of his ordination to the priesthood, and had served as the Province's novice master for fifteen years, and would soon be on his way to the Dominicans' mission in Ocosingo, in Chiapas, the southernmost state in Mexico, where he labored for the next eight.
Fr. Duffner was a superb athlete. He enjoyed baseball, and one of his first novices recalls his once putting out a hand to vault a fence and bring home a football that had gone astray. Until recently, he was the envy of the Dominican community at Holy Rosary Priory in Portland, Oregon, the only member of the group spared the annoyance of taking a single prescription medication!
Friends of the Rosary Center will remember the twenty years Fr. Duffner directed this – perhaps his most beloved – ministry, carefully guiding its daily activities, writing reflections for Light and Life, and entering the names, in his superb handwriting, of those who wished to join the Rosary Confraternity. When I arrived to work with him I was astounded at his creativity; one of our pamphlets is too small to offer as a single purchase, so we only provide them in sets of twenty-five. Fr. Duffner discerned how many twenty-five weigh, and saved himself the mind-numbing chore of counting the pamphlets by simply arranging them on the Center's postage meter!
Fr. Duffner is one of only two Western Dominicans to serve in the Province's extreme limits. In addition to his assignment in Mexico, he also spent two years with his brothers at Holy Family Cathedral, in Anchorage, Alaska. But he will be remembered most fondly for the four decades he spent in Portland, where Holy Rosary's parish hall stands as a lasting tribute to his creativity and concern for God's People entrusted to his care when he served as pastor. Over the years many have suggested naming the building in his honor, but he has steadfastly refused.
In 1934, the future Fr. Duffner (then Paul William) wrote – in his impeccable hand – to the Provincial of the Western Dominicans:
"You might, perhaps, ask why I wish to be a Religious, or why I chose the Dominican Order in preference to others.

My grade school and high school education were both under Dominican sisters, who gave me some idea of the Dominican life and works. ...I have consulted my confessor and pastor, both of whom have assured me that a religious life would be better adapted to my disposition and character, and who told me that my wish to become a Dominican was excellent."
Those sisters and priests have long been rejoicing in fruit of their good advice, and we who have been blessed to share the Dominican Life with our brother Paul Aquinas thank them sincerely for their prayers and support!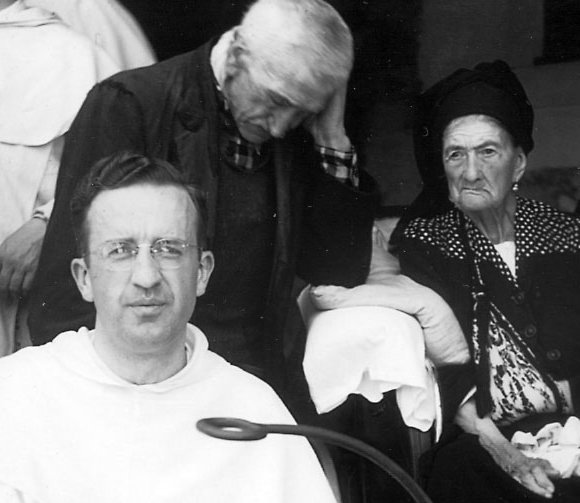 Fr. Duffner with the Martos, parents of the Fatima Seers. (1954)
---
Valuable additions to the spiritual Bookshelf
Dominican historian, Fr. Augustine Thompson, published a well-received biography of St. Francis, which has recently appeared in a paperback edition. This biography has been embraced by religious and secular experts alike, and many Franciscan superiors have said they will not be without it. The book portrays an engaging and sympathetic individual, but does not sentimentalize Francis, or attempt to gloss over his many challenges.
Popular theologian Mark Shea (whom Fr. Reginald knew when he served as pastor of the Dominican parish in Seattle, Washington), offers a new edition of a remarkable work, Mary, Mother of the Son. Originally published in three volumes, the work is now available in a single volume, and Fr. Reginald says it is hard to put down.
Volume one considers popular misunderstandings about Mary, the second treats Mary's virginity, Immaculate Conception and Assumption, and the third, which Rosary devotees may find most engaging, studies Marian devotions, including the Rosary. The volumes formed a part of Fr. Reginald's spiritual reading for many early mornings before the Blessed Sacrament; he urges the friends of the Rosary Center to share his enriching experience.
---
2 Novenas of Masses in honor of
CHRIST OUR SAVIOUR & EASTER
March 25 - April 2 | April 5 - 13
to be offered for your intentions.
Novena Prayer
---

Mailing Address:
The Rosary Center
PO Box 3617
Portland, OR 97208 USA
+1-503-236-8393
rosary@rosary-center.org
---