The Rosary Light and Life - Current Announcements - March-April 2015
---
A few words from Fr. Reginald Martin, O.P.
LOOKING BACK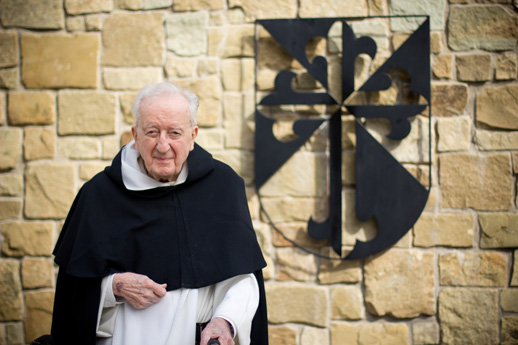 I am not certain whether an issue of Light and Life has ever - ever! - featured a photograph, but this issue is an exception, and if our friends look to the right, they will see a picture of a very handsome Fr. Paul Aquinas Duffner, taken on April 14, just before the Mass to celebrate his milestone hundredth birthday.
For more than two decades Fr. Duffner was the presiding genius at the Rosary Center, carefully preparing the Light and Life reflections, and leading our staff in daily recitation of the Rosary and celebration of the Holy Eucharist. The collections of his writings continue to inspire the Rosary Center's friends, and you may order them at any time. (They are called To Know Him, 2 volumes, and may be ordered here.)
Fr. Duffner may be growing weaker, but he has grown no less interested in the ministry of the Rosary Center, or you, who support our work. Each day he comes to the Center, and each day he makes an invaluable contribution to our lives. Thank you for your prayers for Fr. Duffner, and your continued prayers for Our Lady's saving ministry!
LOOKING AHEAD
Some time ago my Dominican brothers began turning to me to edit their books and academic theses. Now, as I approach my seventieth year, I seem to have discovered another - somewhat related - vocation: writing forewords to texts, and providing comments for the backs of books that will, the author hopes, improve the books' sales.
I have recently had the opportunity to do this twice. Fr. Brian Mullady, whose work is well-known to friends of the Rosary Center, asked me to serve as "censor" for his newest effort, Christian Social Order. In the Catholic Church, a censor's task is to testify that a book contains no moral or doctrinal error, so our friends may imagine the trepidation with which I undertook this assignment. Fr. Mullady, after all, is vastly more intelligent than I. He is a renowned theologian, a seminary professor, and a preacher of some note. My academic credentials, by contrast, include degrees in English literature and Business Administration.
However, a superior's request is a superior's request, so I began reading the book, looking for errors I was certain I would not find. Nor did I. Along the way, however, I was altogether captivated by Fr. Brian's concise summary of the Church's history of social teaching, as well as the consequences of our Fall from grace, and the Salvation Christ won on the Cross. The text considers the immense gift of our Human Freedom, and the corresponding responsibility to use it for the Common Good. It probes the duties of the State, and observes, "For the end of a society to be proper, the ultimate end of human life, God and his laws must be respected."
What is perfectly breath-taking in the work is Fr. Mullady's deep and insightful consideration of marriage and the family, and the second part of the book, which deals with practical applications of the truths outlined in the initial chapters, gives the reader a beautiful, yet unsentimental view of the value of the family and the threats it faces at this time.
ST. IGNATIUS & THE ROSARY
One day, a few weeks ago, when I was minding my own business, I opened my email and found a note from a cloistered Dominican nun who asked whether I might be willing to provide some comments for the back cover of a book for which she had just completed some illustrations. The book, she wrote, was by a Jesuit, and applied the Spiritual Exercises of Saint Ignatius to praying the Rosary. "This looks interesting," thought I, so I sent an affirmative reply, and received a remarkable volume in return. Most of us, I suspect, have heard of the Spiritual Exercises, but I have a feeling few of us, and I count myself among the ignorant, despite graduating from a Jesuit university, have any idea what they consist of.
I am happy to say that is no longer the case. Fr. William Watson, S.J., has just completed a book that explains the Exercises, and demonstrates how embracing them can lead us into a more intimate relation with Christ and His Blessed Mother. The Exercises, I learned, are traditionally undertaken with the guidance of a spiritual director. This is the role Fr. Watson assumes for us, leading us through each Mystery of the Rosary, directing us to ponder its truth and, especially, its value to us. With this issue of Light and Life we promise to offer two novenas of Masses to the Sacred Heart for our friends' intentions. Consider what Fr. Watson writes about the last of the Sorrowful Mysteries, the Crucifixion and Death of Jesus. He asks us to "ponder what God has accomplished in Christ Jesus on my behalf in light of this particular mystery," and observes
Original Sin unleashed upon the world an evolution of rage in the overwhelming grief of divorcing one's self from the ecstasy of intimacy with God and each other. This is Satan's rage which by choice we have made our own. In this rage, human relationships are violated at every level, making sin's greatest trauma that of abandonment and loneliness...In freely absorbing our sins in His Sacred Heart, He is cut-off from experiencing the Father's love, and from those depths forgives us, mending permanently the communion of love that was our birthright with the Trinity and each other.
Both these books will be available when we mail the next issue of Light and Life. I am certain you will find them as rewarding as I.
(n.b. Fr. Mullady's book Christian Social Order is now available here.)
---
A NOTE TO OUR CANADIAN FRIENDS
If you send your gift to the Rosary Center in Canadian funds, your generosity is considerably reduced by the time the bank makes adjustments for differences in exchange rates and - especially - levies a transaction fee to convert your gift into American funds. To protect the value of your gift, please use a credit card or International Money Order.
---
Valuable additions to the spiritual Bookshelf
Dominican historian, Fr. Augustine Thompson, published a well-received biography of St. Francis, which has recently appeared in a paperback edition. This biography has been embraced by religious and secular experts alike, and many Franciscan superiors have said they will not be without it. The book portrays an engaging and sympathetic individual, but does not sentimentalize Francis, or attempt to gloss over his many challenges.
Popular theologian Mark Shea (whom Fr. Reginald knew when he served as pastor of the Dominican parish in Seattle, Washington), offers a new edition of a remarkable work, Mary, Mother of the Son. Originally published in three volumes, the work is now available in a single volume, and Fr. Reginald says it is hard to put down.
Volume one considers popular misunderstandings about Mary, the second treats Mary's virginity, Immaculate Conception and Assumption, and the third, which Rosary devotees may find most engaging, studies Marian devotions, including the Rosary. The volumes formed a part of Fr. Reginald's spiritual reading for many early mornings before the Blessed Sacrament; he urges the friends of the Rosary Center to share his enriching experience.
---
2 Novenas of Masses in honor of
The Sacred Heart of Jesus and Immaculate Heart of Mary
June 4-12 | June 13-21
to be offered for your intentions.
Novena Prayer
---

Mailing Address:
The Rosary Center
PO Box 3617
Portland, OR 97208 USA
+1-503-236-8393
rosary@rosary-center.org
---