Welcome! We are the headquarters of the Rosary Confraternity of the Catholic Church, a world-wide movement of prayer for peace. We are administered by the Dominican Fathers, Fr. Reginald Martin, O.P., Director. We are located next to the Holy Rosary Church in Portland, Oregon, USA, the city of roses. Included is how to pray the rosary. Those who pray the Rosary regularly would do well to be enrolled in the Confraternity to gain extra spiritual benefits for each Rosary they pray.
Pope John Paul II declared the Rosary as his favorite prayer, a "prayer for peace and for the family". Read his Apostolic Letter "Rosarium Virginis Mariae" (Rosary of the Virgin Mary).
Pope Benedict XVI in 2008 stated "... the Rosary is experiencing a new Springtime. Without a doubt, this is one of the most eloquent signs of love that the young generation nourish for Jesus and his Mother, Mary. In the current world, so dispersive, this prayer helps to put Christ at the center...."
And on Oct 7, 2011, The Rosary, a "contemplative and Christocentric prayer, inseparable from the meditation of Sacred Scripture," is "the prayer of the Christian who advances in the pilgrimage of faith, in the following of Jesus, preceded by Mary."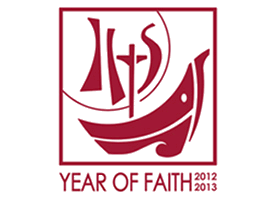 Read Holy Father's encylical LUMEN FIDEI, also available Faith CD and Leaflet, by Fr. Mullady, special for the Year of Faith, and Both a Servant and Free-A Primer in Fundamental Moral Theology, by Fr. Brian Mullady, for his EWTN series.

Read our latest newsletter Vol 66n6:Nov-Dec'13, The Ten Commandments: Introduction-Covenant and Commandment, or our current announcements.
Also the current Novena Prayer is here.

Ave Maria.



You may help support us by visiting our Christmas suggestions page.